A "Man of Simple Pleasures" and "GO TEAM VENTURE!"Dept.s Co-Production:
Since before 1999, James Urbaniak, soon-to-be-media-overlord and voice of Doc "Rusty" Venture has been denied the pleasure of recording his part for the TOO FRICKIN FUNNY FOR WORDS
VENTURE BROTHERS
cartoon with Patrick Warburton ("Puddy", "The Tick", best choice as the hero in a SHAZAM movie...) voice of Brock Samson on the same. Well, his recent relocation to Los Angeles has changed that - and HOW!!Check out the boys frolicking on a front-yard swing at Jackson Publick's place.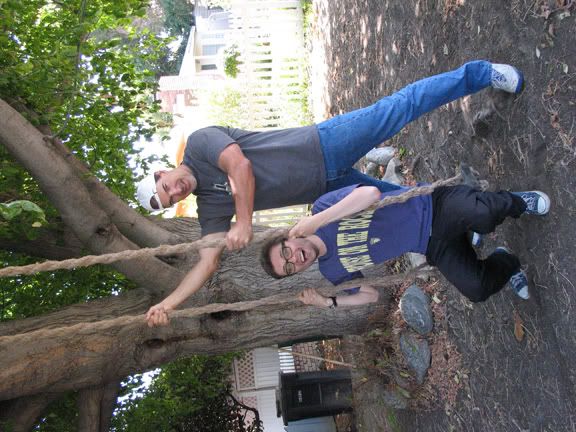 This just makes me all grinny and happy, I tell ya what...
PS: Splatter-zone Fiesta T-minus 6 days and counting!