I've been watching the old PETER GUNN DVD set I bought years ago...
"Women We Love" Dept.:
At the time Marilyn Monroe broke really big, every studio did what they always do and still do - looked strictly at the superficial aspects of the thing that their competition had done to make some money, and then fired off some knock off versions of the same thing. The thing was, because the studio system was what it was, the "knock offs" in question were people who wouldn't have been hired by the studios unless they fit a certain niche that the studios were trying to groom them into being. So when Marilyn broke big (she was enormously financially successful for 20th Century Fox) all of a sudden the Sharee Norths and Mamie Van Dorens and Stella Stevenses and, believe it or not, Shelley Wintereses, of the world had a chance to first be "their studio's Marilyn" but to also (in the case of Stella and Shelley) stick around long enough on the strength of their talent to make something of themselves on their own.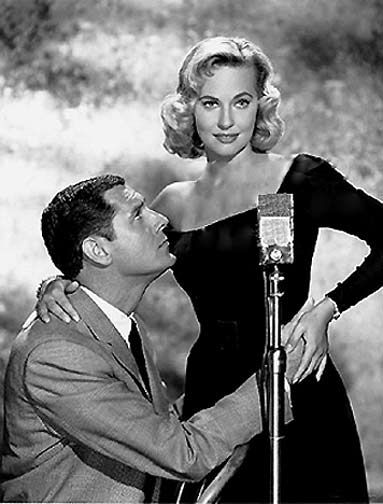 Lola Albright was one of those "This Year's Blondes", and I've only just started watching her as the resident
chanteuse
, Edie Hart, at the jazz club that title character haunts in Blake Edwards' PETER GUNN. I knew Ms Albright from her work in LORD LOVE A DUCK (a movie you've seen me prattle on about often out here), but she is really quite something else as Edie. Almost, as many of those Blondes were, too good to be the face she was expected to be, Lola did a lot of indie and non-studio work in the 60's. Check her out in this excellent clip from "A COLD WIND IN AUGUST" and watch her literally act circles around the scene chewing Scott Marloe in an *awful* script that he seems to, metaphorically speaking, be attempting to hit her repeatedly over the head with. Now picture that same woman dryly trading nihilistic quips with a laconic private eye some 5 years earlier in Peter Gunn and you'd see why I'm falling in love with her. She's way too good for this stuff.