"Hey! Look!! This is REALLY Cool !!" Dept.:
A little over a year ago I posted a link to images related to the in-period recreation of a seminal story of horror and the redemption of humanity through the destruction of an ancient ruler of a pre-civilised island in the Pacific Ocean.
No, I wasn't talking about
Peter Jackson's King Kong
("Wow, there's a first time for everything...", I can hear cute little
buzzylittleb
muttering from her big Uni dorm-room across the sea. Yes, that's right... I heard you snarking, Rachel. Right where you were sitting. ).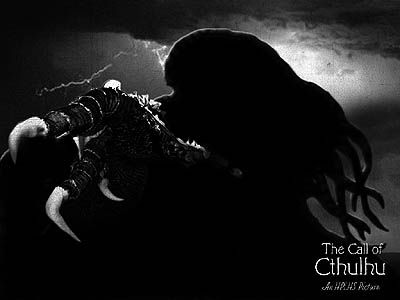 In fact, I'm referring to the
now fully-completed silent film adaptation of HP LOVECRAFT's seminal novella of mind-wrenching comic horror, THE CALL OF CTHULHU
, as produced by members of the HP LOVECRAFT HISTORICAL SOCIETY. Check out the image below, and the link to their trailer for it
here
.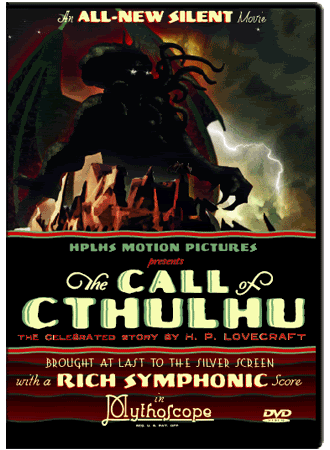 LJ associates such as
32elvismovies
,
threne
, and
mimisoleil
(to name but three - but I can see you all enjoying this, really) will groove on the attention paid to period detail by one of the key masterminds of this project, the incredibly talented
artist and designer Andrew Leman
, who has been at least partly, but quite often almost fully, responsible for some of the groups wackier projects. Cool projects. Fun projects. Delightfully odd projects that I wish I had come up with myself or had the means of following through on such as
a documentary film about the Off-Off-Broadway play not meant for the eyes of man
- "
SHOGGOTH ON THE ROOF
" (which itself has a very funny libretto,
available for purchse from the HPLHS site
), a book and CD of atheistic "
Solstice Carols
" (as HPL would have balked at anything festive that related to Christian mythology), and a variety of other very very cool projects.
This is one that will be relisted come the Holiday Season, but listen, if you DARE to the chilling and yet strangely familiar strains of the "
Carol of the Old Ones
".
What I found especially interesting were Mr Leman's ingenious fusing of an old Smith-Corona typewriter and a vintage Mac Classic, looking like something from Terry Gilliam's BRAZIL.
I know i'm getting an order in for some of this stuff soon.