"Formative Influences" Dept.:
Submitted for your collective consideration, my favourite Roddy MacDowell movie, Tuesday Weld's favourite movie she was ever in, and probably the last good thing George Axelrod was allowed to write, produce and direct. 1966's LORD LOVE A DUCK was a strange little arsenic cookie of a film that managed to unflatteringly skewer progressive education, the declining role of the nuclear family, the rise of celebrity culture and shows that pretty well everything seems to be "wrong" and "contemporary" now was just as "wrong" and "contemporary" THEN, if people were talking frankly about things. A great, great movie that, although looks like it was shot on a weekend in one cheap TV studio, is packed with a terrific cast and packs a satirical punch even now. Oddly naturalistic acting styles (which you don't see in "teen" movies from this time - think of Frankie & Annette) combine with some pretty awful happenings. This movie doesn't like *anybody* much, and it's perfectly ready to share the abuse with you.
Get a load of the incredibly infectious laugh on Max Showalter, an excellent character actor from the 40's through the 80's and the guy playing Tuesday Weld's character's divorce-guilty deadbeat Dad. Some of you,
lostjane
included, will remember him as the Granpa who left the bathroom unusable in SIXTEEN CANDLES some 20 years later.
"Periwinkle Pussycat" was a running joke with my roomate and I for most of 1990 because of this sequence...
Click on the screen grabs to go to the sequences 1-3, on YouTube.
Barbara Ann Needs 12 Sweaters Pt. 1 - the New Math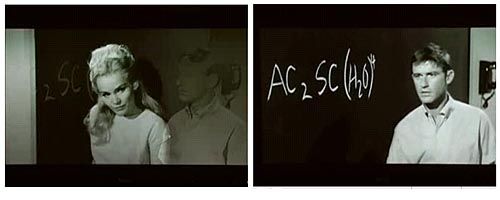 Barbara Ann Needs 12 Sweaters Pt. 2 - Taste Some of This Apple Pan Dowdy

Barbara Ann Needs 12 Sweaters Pt. 3 - Perriwinkle Pussycat